Item
The Nausea ‎– Requiem Aeternam(C28)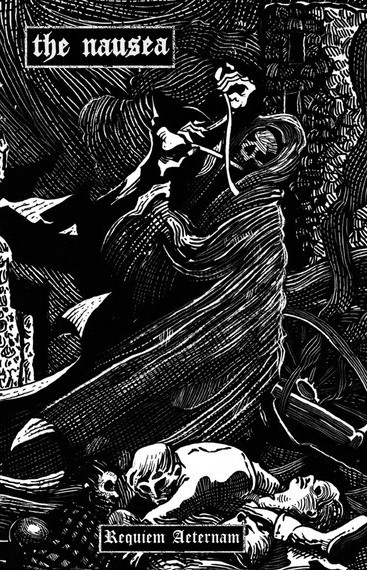 Sample:
http://thenausea.bandcamp.com/album/requiem-aeternam-demo
Anju Singh has been the primary figure behind the Vancouver Noise Festival for the past seven years, the drummer and vocalist in long-running (and now nearing fully-realized) death metal band AHNA, and has held countless other roles in the punk, metal, and harsh noise scenes in Vancouver. THE NAUSEA has existed alongside all of this for the better part of a decade now. These six violin-based movements channel GYORGY LIGETI's works popularized in "2001: A Space Odyssey", and JOHNNY GREENWOOD's contemporary classical score for "There Will Be Blood", as they both ascend to levels of compositional clarity and descend into a cavernous, hellish nightmare populated by the harrowing voices of the dead and the dying. Similarities can be drawn to JASON LESCALLEET's epic "The Pilgrim" as the crescendo of harsh noise begins to decay. Death is the ultimate theme at play here. A long-awaited debut release from a figure instrumental in maintaining Vancouver's integrity in the harsh noise scene and beyond.
C28. Edition of 100 copies on pro-dubbed, pad-printed, sonic-smoke coloured tapes.
Label:Absurd Exposition
Format:Cassette, C28
Country:Canada
Released:09 May 2017
For oveseas custumers:
This cart is accept payment by credit card and bank transfer.
If you wish to pay by paypal, Please select payment method by "bank transfer" with order form, and specify " Paypal payment wish" in the Other Notes And Remarks column.
Mail accompanying bank transfer will be automatically sent to you first, but please ignore it.
Then we will contact you about payment method on Paypal.
¥ 1,300
*Tax included.
Additional shipping charges may apply, See detail..
About shipping fees
The shipping fee for this item varies by the shipping method.
Customers can choose the shipping method at time of purchase.
Domestic(国内通常発送)

即日〜7営業日以内の発送

Shipping Fees are the same all over country wide 400JPY

Air mail

For Shipping outside of Japan.

Shipping Fees are the same all over country wide 600JPY

Registrated Air mail

shipping outside of Japan,with tracking.

Shipping Fees are the same all over country wide 1,010JPY
Shipping fees for purchases over 10,000JPY will be free.
<>

Add to site.
Add to another site.
Copy the code below and paste in on the HTML code of your website.