Item
SUTCLIFFE JUGEND and JUNKO (非常階段/HIJOKAIDAN) – Sans Palatine Uvula (CD)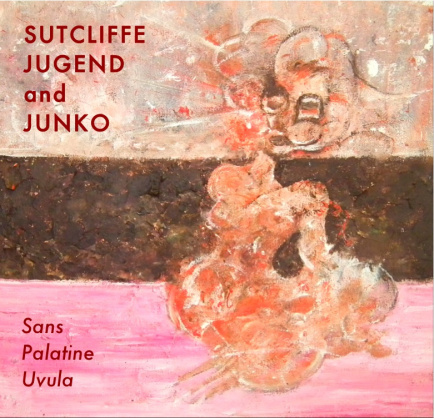 Sample:
https://soundcloud.com/4ib-records/sutcliffe-jugend-and-junko
https://soundcloud.com/4ib-records/sans-palatine-uvula-sample
UK Power electronics SUTCLIFFE JUGENDと、非常階段の最強ボーカリストJUNKOのコラボ作品。大推薦!
Sans Palatine Uvula showcases the amalgamation of 2 pioneering artists of their respective genres: Power Electronics and Japanoise, both whom have made their presence significantly felt (through sight and sound) ever since the early 1980s in England and Japan. Sutcliffe Jugend and Junko (from 非常階段/HIJOKAIDAN) are renowned artists in their own right, having been uniquely defined in the experimental noise scene as innovators of sound through their personal style of artistic expression that involves the churning of audio mayhem through guitars, electronics and vocals.
This album sees Sutcliffe Jugend taking a step beyond as they push the envelope of sound progression to greater heights. Junko's piercing screams and squeals serve as a canvas for Sutcliffe Jugend to work on and develop it further in their own innovative style. The results demonstrate a very unique reconstruction of the shriek queen's original vocal outbursts, which see them being reworked and reinvented separately through manipulative treatments of cut-ups, distortions, samplings and introduction of other sonic elements.
This collaborative work between these two unique and respected artists of different genres from East and West encloses the listener with sonic chaos through its ten varied tracks. For some, it may seem like a difficult album to digest at the first listen. However, the tensions that have been separately produced from the harsh elements of voice and sound eventually subside as they resonate with each other, bringing forth a balanced unity of yin and yang.
Best Played Loud!
This cart is accept payment from overseas customers by only credit card and bank transfer.
If you wish to pay by paypal, Please select payment method by "bank transfer" with order form, and specify " Paypal payment wish" in the Other Notes And Remarks column.
Mail accompanying bank transfer will be automatically sent to you first, but please ignore it.
Then please payment the total amount to the paypal account below.
bank(at)dotsmark(dot)com
We will ship the item after confirmation of payment to paypal.
¥ 1,500
*Tax included.
*Additional shipping charges may apply, See detail..
About shipping fees
The shipping fee for this item varies by the shipping method.
Customers can choose the shipping method at time of purchase.
Domestic(国内通常発送)

即日〜7営業日以内の発送

Shipping Fees are the same all over country inside Japan 400JPY

Air mail

For Shipping outside of Japan.

Shipping Fees are the same all over country inside Japan 600JPY

Registrated Air mail

shipping outside of Japan,with tracking.

Shipping Fees are the same all over country inside Japan 1,010JPY
*Japan domestic shipping fees for purchases over 10,000JPY will be free.