Item
V/A Night Science IV(zine + CD)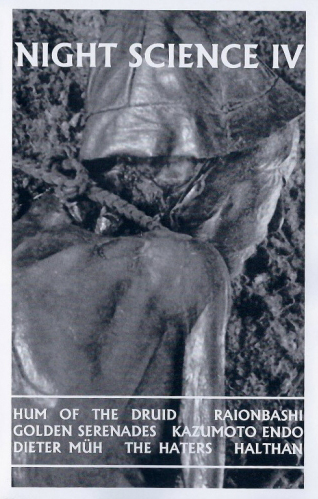 オーストラリアのCipher production発行のノイズジン。

The new issue of 'Night Science' lands at long last. Lengthy interviews and exclusive CD content from Hum Of The Druid, Raionbashi, Golden Serenades, Kazumoto Endo, Dieter Müh, The Haters and Halthan. All amazing artists, and all have contributed significantly both in their audio output and their time/commitment/visual contributions to my interviews. This issue also includes an interview with those behind the Posh Isolation label, reviews of live performances by KK Null, Dave Phillips and Runzelstirn & Gurgelstøck, and reviews of around 220 releases from the past few years. Everything totals 136 pages and, like the last issue, this effort has been perfect bound to cram the most content in possible. The CD clocks in at close to an hour, and showcases each artist in their element. These are some of my favourite people recording at the moment, so it's a real privilege to have them all in one place. This project was about four years in the making and is, in my opinion, the best issue yet. It's limited to 500 copies.
This cart is accept payment from overseas customers by only credit card and bank transfer.
If you wish to pay by paypal, Please select payment method by "bank transfer" with order form, and specify " Paypal payment wish" in the Other Notes And Remarks column.
Mail accompanying bank transfer will be automatically sent to you first, but please ignore it.
Then please payment the total amount to the paypal account below.
bank(at)dotsmark(dot)com
We will ship the item after confirmation of payment to paypal.
¥ 1,500
SOLD OUT
*Tax included.
*Additional shipping charges may apply, See detail..
About shipping fees
The shipping fee for this item varies by the shipping method.
Customers can choose the shipping method at time of purchase.
Domestic(国内通常発送)

即日〜7営業日以内の発送

Shipping Fees are the same all over country inside Japan 400JPY

Air mail

For Shipping outside of Japan.

Shipping Fees are the same all over country inside Japan 600JPY

Registrated Air mail

shipping outside of Japan,with tracking.

Shipping Fees are the same all over country inside Japan 1,010JPY
*Japan domestic shipping fees for purchases over 10,000JPY will be free.