Item
V/A Night Science III (zine + CD)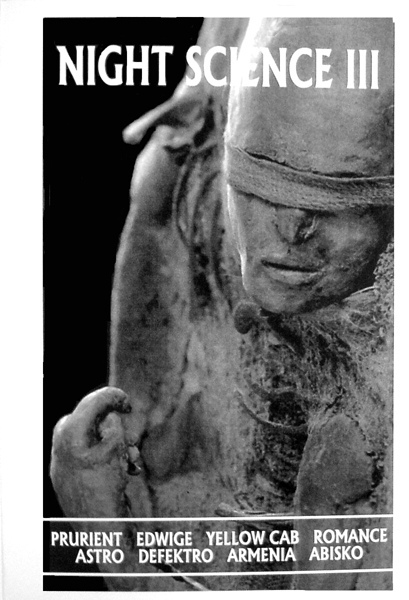 オーストラリアCipher productions発行のノイズジン。

Night Science is back with its biggest and boldest issue yet: a perfect-bound 104 page 'zine and a full-length CD of exclusive material featuring: Prurient - in-depth interview, historical photographs and two disparate tracks: a turgid piece of cut-up urgency and a live track of pure feedback destruction; Edwige - all members are interviewed and the CD contains a new 10 minute track with a more menacing, industrial approach than to their Segerhuva LP; Yellow Cab - Michio's first CD appearance in, what, 10 years? Old school Japanese noise which bristles with vibrancy and a quick chat from Mr. Vanilla Records; Romance - lengthy interview with this newer British noiser and a fine track of punishing, dichotomous harshness; Astro - Hiroshi Hasegawa explores his incredible history in experimental music and delivers up a unique piece of Astro majesty from the same sessions as the 'Shell Star/Spica' masterpiece; Defektro - Australia's newest noise arrival (ex-Japan) on all things mechanical and three pieces of robotic/electronics mayhem; Armenia - this unstoppable noise machine delves into his noise past and rounds the CD out with 10 minutes of pure screech; and Abisko - Tommy Carlsson discusses his latest label venture. This 'zine also features reviews of over 185 noise titles covering the last couple of years, an invaluable insight into those you missed, those you've ignored and those you've yet to experience. Limited to 500 copies.
This cart is accept payment from overseas customers by only credit card and bank transfer.
If you wish to pay by paypal, Please select payment method by "bank transfer" with order form, and specify " Paypal payment wish" in the Other Notes And Remarks column.
Mail accompanying bank transfer will be automatically sent to you first, but please ignore it.
Then please payment the total amount to the paypal account below.
bank(at)dotsmark(dot)com
We will ship the item after confirmation of payment to paypal.
¥ 1,500
SOLD OUT
*Tax included.
*Additional shipping charges may apply, See detail..
About shipping fees
The shipping fee for this item varies by the shipping method.
Customers can choose the shipping method at time of purchase.
Domestic(国内通常発送)

即日〜7営業日以内の発送

Shipping Fees are the same all over country inside Japan 400JPY

Air mail

For Shipping outside of Japan.

Shipping Fees are the same all over country inside Japan 600JPY

Registrated Air mail

shipping outside of Japan,with tracking.

Shipping Fees are the same all over country inside Japan 1,010JPY
*Japan domestic shipping fees for purchases over 10,000JPY will be free.