Item
VARIATIONS OF SEX - MY COCK IS BEYOND GOOD AND EVIL (CD)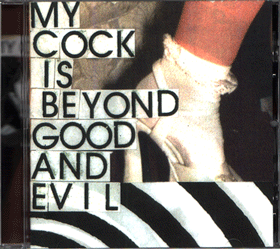 「緻密にされたサウンドデザインがロック魂で疾走するノイズ界のレッド・ツェッペリン、音響とかハーシュとかつまらないジャンル分けを破壊する当然のミクスチャー。ノイズ界に味方なし。人生に救いなし。」
東京Collage Harshnoise Unit "VARIATIONS OF SEX"が、デンザツからリリースしたCDR2作品の次に自身のレーベル"ELEKT"からリリースした3rdCDR"MY COCK IS BEYOND GOOD AND EVIL"。
極少部数でのみ流通していたオリジナル盤に、イタリアの某レーベルからのオファーで制作したものの諸般の事情で未発表のままとなっていた音源をを追加してのCD再発。
Harshのスタイルを採りながらも音圧や粗暴さに頼るのでは無く技術と知性を持ち合わせ、そうでありながら決してこじゃれた雰囲気など醸さない歪んだ攻撃性を伴わせるV.O.S.の美学が見事に昇華された、本人も「最高傑作」と語る要注目作。
今回の再発にあたりジャケットを一新。
全4トラック、53分。

Tokyo Harsh Collage Noise Unit's Re-issue of 3rd CDR.

VARIATIONS OF SEX are solo unit of Maruyama. original "MY COCK IS BEYOND GOOD AND EVIL"very limited edition cdr released in 2004 by Maruyama?fs private label ?gELEKT?h.This stuff did a re-issue of it as a CD.
track1 is bonus track for this release.
He uses MS-20,effect pedals,sampling,voices,and metal junk.He is sickly playing,and edit it intellectually

ooo-12
This cart is accept payment from overseas customers by only credit card and bank transfer.
If you wish to pay by paypal, Please select payment method by "bank transfer" with order form, and specify " Paypal payment wish" in the Other Notes And Remarks column.
Mail accompanying bank transfer will be automatically sent to you first, but please ignore it.
Then please payment the total amount to the paypal account below.
bank(at)dotsmark(dot)com
We will ship the item after confirmation of payment to paypal.
¥ 1,500
*Tax included.
Additional shipping charges may apply, See detail..
About shipping fees
The shipping fee for this item varies by the shipping method.
Customers can choose the shipping method at time of purchase.
Domestic(国内通常発送)

即日〜7営業日以内の発送

Shipping Fees are the same all over country wide 400JPY

Air mail

For Shipping outside of Japan.

Shipping Fees are the same all over country wide 600JPY
Shipping fees for purchases over 10,000JPY will be free.
<>

Add to site.
Add to another site.
Copy the code below and paste in on the HTML code of your website.