Item
5way split - 真実は詐欺師の発明/TRUTH IS INVENTED BY LIARS (CD)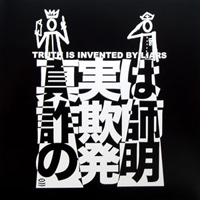 2012年4月~5月にかけて敢行されたスイスのアーティストDave PhillipsとFrancisco Meirino両者の日本ツアーを記念して制作された5way Split CD。
両者に加え、Dave Phillipsを擁したアクション・ユニットSchimpfluch-Gruppeでも知られ、現在は大阪に在住、EXTREME RITUALとも形容される独自の世界観での音響パフォーマンスを続けるRodolf.Eb.Er(R&G)、ENDONのノイズ奏者によるソロノイズユニットMASS PHALLOCENTRISM ATTACK、知性とナンセンスの強引な配合によって全く独自の表現実験を続けて来た群馬のノイズ/アバンギャルドユニットABISYEIKAH(アビシェイカー)の計5組のオリジナル曲と、Dave&Franciscoによるコラボレーショントラックを収録。スイスアヴァンギャルドと、それをリスペクトする日本の新しい才能とを橋渡しする日瑞友好盤。

This CD was produced according to the 2012 Japan tour of Dave Phillips & Francisco Meirino.
CD with 5 Noise/Avant-Garade/Electro acoustic artist from Japan and Switzerland.
Original songs from each artist, and included the collaboration track of dave with francisco.
Dave Phillips is an noise actionist of Switzerland has been active since 1987.He is a member of art group "Schimpfluch-Gruppe", and in the past was the main member of the legendary grindcore band "FEAR OF GOD".
He has built dense tracks by voice, sound, field recordings,for problems of modern society.
Francisco Meirino is an sound artist working in Switzerland since the 1990s.He makes a live performance using the multi-channel also pluralistic, field recordings and Electro acoustic using.
Rudolf EB.ER is a founding member of "Schimpfluch-Gruppe", Swiss artist currently working in Japan.
The above three artists, supported on this tour Corrupted,Hijokaidan,Endon and more.
Abisyeikah is an lo-Avant-garde unit working in Japan since the 1994.They sound production are humorous,lo-fi and very free.They have released a 3 albums and many VA so far.
MPA is a Japanese young noise collage unit.solo project by noise player of the noisecore band ENDON of Japan.

This cart is accept payment from overseas customers by only credit card and bank transfer.
If you wish to pay by paypal, Please select payment method by "bank transfer" with order form, and specify " Paypal payment wish" in the Other Notes And Remarks column.
Mail accompanying bank transfer will be automatically sent to you first, but please ignore it.
Then please payment the total amount to the paypal account below.
bank(at)dotsmark(dot)com
We will ship the item after confirmation of payment to paypal.
¥ 1,500
*Tax included.
*Additional shipping charges may apply, See detail..
About shipping fees
The shipping fee for this item varies by the shipping method.
Customers can choose the shipping method at time of purchase.
Domestic(国内通常発送)

即日〜7営業日以内の発送

Shipping Fees are the same all over country inside Japan 400JPY

Air mail

For Shipping outside of Japan.

Shipping Fees are the same all over country inside Japan 600JPY
*Japan domestic shipping fees for purchases over 10,000JPY will be free.