Item
V.A. ‎– Amplified Humans Festival 2016(2DVD)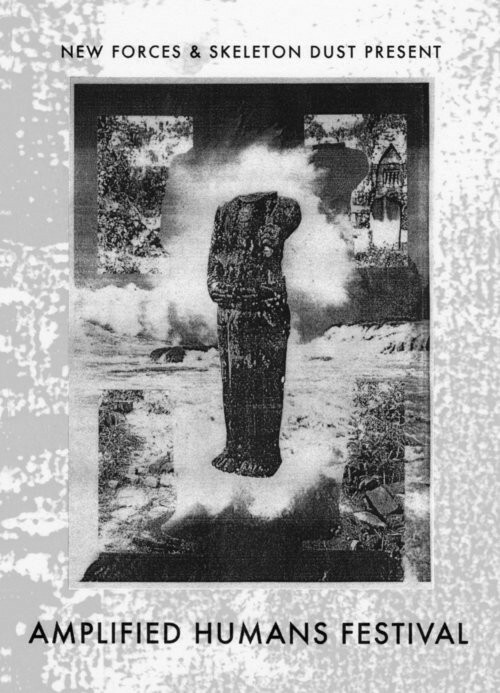 MV:
https://youtu.be/icZywz4QhDw
2018年に"地域とノイズ"@UPLINKでも特集したUSノイズフェスティバルの模様を完全収録した300セット限定のDVD2枚組、奇跡的に再入荷出来ました。
USハーシュノイズのオリジネイター級ベテランから最新のアクト迄全26の演奏をフルで収録。
ノイズをもっと掘りたいけど「プチプチした音のロジカルなノリじゃなくて...」とか「楽器に集中する感じじゃないなんかもっとこう爽快な...」みたいなモヤッとした気持ちでいた方、もしかしたらこのDVDの中身が期待に応えてくれるかも知れませんよ。
ということでハーシュノイズ入門にもオススメです。
This 2-disc DVD set captures, in their entirety, all 25 performances at the 2016 Amplified Humans Festival in Dayton, Ohio. Shot from three camera angles by Jay Linski (Bullart Video), and accompanied by sound-board audio engineered by Andy Czuba, this is the next best thing to having attended the festival. With more than 5 hours of footage across two professionally manufactured DVDs, you can view the performances from start to finish or use the menu to select individual sets. See the rapid-fire Japanoise mastery of Killer Bug, Kazuma Kubota, and Facialmess. Watch The Rita perform walls of underwater snorkel-noise while submerged in a basin of water. Enjoy the tense sonic manipulations of John Wiese. And watch Aaron Dilloway turn in a now-legendary performance that rests at the top of the "best set ever" list for many of the festival's attendees. These are just a few of the amazing performances captured on this DVD which also features a soundtrack composed by Blessed Sacrifist. A chance to relive an unforgettable weekend for those that attended, and an essential noise document for those who weren't there. Full performances
Killer Bug,
Kazuma Kubota,
Facialmess,
Knurl,
Kazumoto Endo & Kazuma Kubota,
Richard Ramirez,
Aaron Dilloway,
The Rita,
John Wiese,
Scalp Elevator,
Rodger Stella,
Paranoid Time,
T.E.F.,
Plague Mother,
Worth,
Deterge,
Kakerlak,
Skin Graft,
A Snake In The Garden,
Diaphragmatic,
Harness,
Action/Discipline,
Alex York,
Daniel Rizer.
Released:22 Feb 2018
Genre:Electronic
Style:Noise, Industrial
This cart is accept payment from overseas customers by only credit card and bank transfer.
If you wish to pay by paypal, Please select payment method by "bank transfer" with order form, and specify " Paypal payment wish" in the Other Notes And Remarks column.
Mail accompanying bank transfer will be automatically sent to you first, but please ignore it.
Then please payment the total amount to the paypal account below.
bank(at)dotsmark(dot)com
We will ship the item after confirmation of payment to paypal.
¥ 2,980
*Tax included.
*Additional shipping charges may apply, See detail..
About shipping fees
The shipping fee for this item varies by the shipping method.
Customers can choose the shipping method at time of purchase.
Domestic(国内通常発送)

即日〜7営業日以内の発送

Shipping Fees are the same all over country inside Japan 400JPY

Air mail

For Shipping outside of Japan.

Shipping Fees are the same all over country inside Japan 600JPY

Registrated Air mail

shipping outside of Japan,with tracking.

Shipping Fees are the same all over country inside Japan 1,010JPY
*Japan domestic shipping fees for purchases over 10,000JPY will be free.