Item
[会場受渡し限定]"Egocracy / 2018.3.17@桜台pool" advance ticket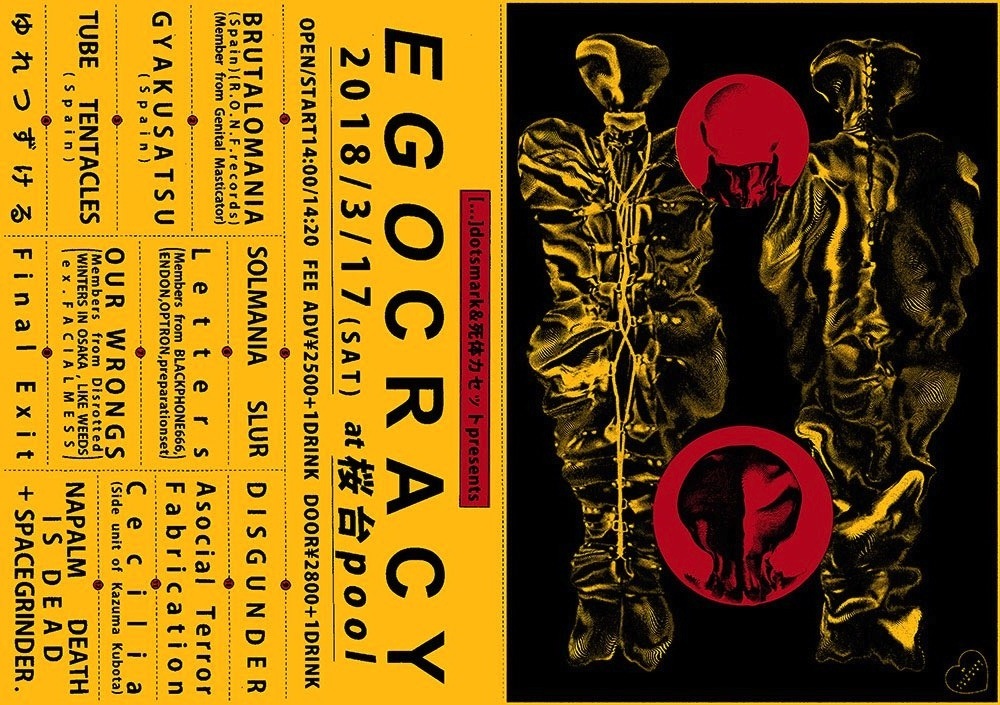 3/17(土)に東京都桜台poolで開催するイベント"Egocracy"の前売チケット。当日券より¥300お得です。
[重要]決済について
・当日ご来場の精算も可能です。お支払い方法に銀行振込をご指定の上、備考欄に「当日精算希望」と明記の上ご注文ください。折り返しメールにてご案内差し上げます。
[...]dotsmark & 死体カセットpresents
"Egocracy"
2018.3.17(Sat)@桜台pool
http://mdel.co.jp/pool/
Open/Start : 14:00/14:20
Charge : ADV ¥2500+1drink DOOR ¥2800+1drink
前売り予約(当日精算)は下記の方法でも承ります。
・Facebook : 本イベントページの参加予定をクリック
・Twitter : […]dotsmark @_dotsmark 又は死体カセット @shit_eye_cass へDMまたはリプライ
・instagram : […]dotsmark @dotsmark へメッセージ
・Email : contact@dotsmark.com へ"Egocracy前売り予約"の件名で枚数及び氏名明記の上メール
Act:
・BRUTALOMANIA(Spain/R.O.N.F.records/Member from Genital Masticator)
・GYAKUSATSU(Spain)
・TUBE TENTACLES(Spain)
・SOLMANIA SLUR
・DISGUNDER
・Letters(Members from BLACKPHONE666, ENDON,OPTRON,preparationset)
・OUR WRONGS(Members from DISROTTED / WINTERS IN OSAKA, LIKE WEEDS / ex.FACIALMESS)
・Final Exit
・Asocial Terror Fabrication
・Cecilia(Side unit of Kazuma Kubota)
・ゆれつずける
・NAPALM DEATH IS DEAD + SPACE GRINDER.
Booth:
CULTURE discs&tapes
http://culture.dotsmark.com/
¥ 2,500
*Tax included.
Additional shipping charges may apply, See detail..
About shipping fees
The shipping fee for this item varies by the shipping method.
当日会場受渡

Shipping Fees are the same all over country wide 0JPY
Shipping fees for purchases over 10,000JPY will be free.
<>

Add to site.
Add to another site.
Copy the code below and paste in on the HTML code of your website.