Item
携帯電話中毒(KeitaiDenwaChudoku) - 非和音(HIWAON) (CD)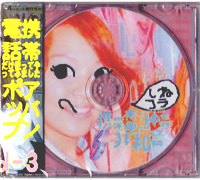 携帯電話中毒の1stアルバム。
一発録りを基本に、携帯電話独自のチープ電子音を前作よりバラエティ豊かに展開。

1st full length CD by japanese mobilephone cheap technoise/ambient unit.
KeitaiDenwaChudoku making tracks that used only mobilephone and effect pedals.
There were 2 members in this time.One operated mobilephones, and another one operated effect pedals.They repeated recording such as live session.They record the tracks of various styles.Sound like Ambient,Technoise,Techno pop,Harsh noise.....

ooocd-3
¥ 1,200
*Tax included.
Additional shipping charges may apply, See detail..
About shipping fees
The shipping fee for this item varies by the shipping method.
Customers can choose the shipping method at time of purchase.
Domestic(国内通常発送)

即日〜7営業日以内の発送

Regional setting

*Shipping fees to customers living outside of Japan are free.

Air mail

For Shipping outside of Japan.

Shipping Fees are the same all over country wide 500JPY
Shipping fees for purchases over 10,000JPY will be free.
<>

Add to site.
Add to another site.
Copy the code below and paste in on the HTML code of your website.